The most significant difficulty in defining how to dress business casually is the lack of a universally applicable definition. As more businesses adopt a business-casual dress code or even newer variations such as "smart casual," this can become increasingly frustrating. There are, however, some unspoken rules that apply to the majority of offices.
When it comes to business casual attire, the rules are typically as follows: no jeans, no shorts, no short dresses or skirts for women, optional ties for men, and an alternate selection of blouses. Business casual dressing is more about adhering to a list of "don'ts" than adhering to a list of "dos," It can differ slightly depending on the individual's style, preference, and gender presentation.
Following are some general guidelines specifically for what kind of pants one can wear in a casual business environment.
For Men
While some progressive offices permit the wearing of jeans, sticking to dress slacks or chino pants (commonly known as khakis) will ensure that you remain well within the bounds of your dress code. Khakis can be a particularly versatile piece of clothing in a business casual ensemble, as they can be worn with both formal and more casual shirts.
While it may be necessary to experiment with different colors and patterns depending on your workplace, try to stick with plain or neutral-colored pants such as black, grey, tan, or dark-toned colors. Avoid wearing bottoms in bright colors (neon yellow, for example, isn't always the most professional choice). Always include a belt in a neutral color that complements the rest of the outfit.
For Women
Pants with a tailored fit or wide-legs are always appropriate to wear dress pants, chinos, or suit pants. Jeans are permitted in some offices, but it is important to check your company's dress code policies before wearing jeans. Even though printed pants or bright colors can be appropriate in some situations, it is still a good idea to assess the atmosphere of your workplace beforehand.
Visit our blog section to learn about business casual dresses and the importance of this attire.
Author Profile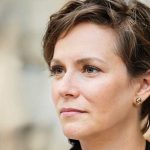 Formerly a senior accountant with a business degree, Linda now manages to generate story ideas; planning, assigning, and editing content for our website.