The operettas and musicals by Austrian-Hungarian composer Sigmund Romberg are his best-known works. Nearly 60 musical theatre works, as well as music for revues and musical comedies, were created by this prolific artist during the course of his long career. Early in life, he got interested in music, and as a young boy, his abilities became apparent. At the ages of six and eight, he began studying the violin and the piano with the assistance of his father.
He was actively involved in the orchestra at his high school, and he quickly understood that music was what he wanted to do with his life. Although they had encouraged his love of music when he was younger, his parents ultimately desired that he pursue a career in a different, more secure field.
So, after convincing him to pursue an engineering degree, they sent him to Vienna for training. He engaged himself in music rather of concentrating on his engineering education and finally immigrated to the USA to pursue music as a career. He first had trouble getting going, but he soon made a name for himself as a well-liked and prosperous composer.
Along with Oscar Hammerstein II, he played a significant role in the development of American operetta in the early 20th century. He eventually went on to write music for Hollywood movies.
Short Facts
Died At Age: 64
Spouse/Ex-: Lillian Harris
Died On: November 9, 1951
Place Of Death: New York
Early Childhood & Life
During the Austro-Hungarian kaiserlich und königlich (Imperial and Royal) monarchy, he was born Siegmund Rosenberg in Gross-Kanizsa on July 29, 1887. Adam and Clara Rosenberg, his parents, were Jews.
In 1889, his family relocated to Belie, which was at the time in Hungary. He began going to an elementary school here. Sigmund began showcasing his musical abilities at a young age since his father liked music. At the age of six, he began studying the violin, and at eight, the piano.
He began his secondary school in 1897 in the Osijek gymnasium, where he was enrolled. He participated actively in the school orchestra during his time there. He cherished music and intended to pursue a career in it. His parents preferred that he establish himself in a more solid line of work, nevertheless. In order to train him, they sent him to Vienna after persuading him to study engineering.
He began studying engineering as soon as he arrived in Vienna, but he soon realized that this was not the best course for his future. He started taking composing courses around this period and completely engaged himself in music. He also quickly gained proficiency on the violin and the organ.
Career
Starting in 1907, he served in the Hungarian Army for a brief period of 18 months. He then made the decision to emigrate to the USA in order to pursue his musical aspirations. In 1909, he immigrated to the USA. His first several years in the USA were difficult. His first position paid $7 a week in a pencil factory.
He soon had the opportunity to perform as a pianist at cafes and bars due to his talent and ambition. With persistence and hard effort, he advanced to orchestra conductor and quickly rose to fame in the music world. He now turned his attention to writing music for the stage. The Whirl of the World, which debuted in 1914, was written by him and lyricist Harold Atteridge. Romberg acquired American citizenship in the same year.
For several more years, he worked with Atteridge to produce such programs as "The Blue Paradise" (1915) and "Maytime" (1917). Romberg's biggest success to date came in 1921 when he penned "Song of Love" for the operetta "Blossom Time." The Student Prince (1924), The Desert Song (1926), and The New Moon (1928) are some of his best-known operettas. He was at the height of his career during the late 1920s.
The Night is Young (1934), which contained the song "When I Grow Too Old to Dream," and Vienna Nights (1930), both of which he co-authored the scores with Oscar Hammerstein II, were among the films for which he wrote the music in his senior years. He also made film adaptations of his own works.
Bigger Works
One of his most popular compositions is the operetta "The Student Prince," which is based on the drama "Old Heidelberg" by Wilhelm Meyer-Förster. The longest-running Broadway production of the 1920s, the show lasted for 608 performances.
He wrote the score for the successful operetta "The Desert Song," which received 465 performances, and which is a favorite of local light opera companies. Stories of Lawrence of Arabia helping local guerrillas served as the inspiration for the opera.
The New Moon, the last of his popular operettas, was his operetta. The show had 519 performances, several revivals, and two film adaptations, and is still performed by light opera organizations today.
Achievements & Awards
Inducted into the Songwriters Hall of Fame in 1970 was Romberg.
Personal Legacy & Life
Eugenia was the subject of his first union. She was an Austrian, which was recorded in a 1920 federal census form, and that is about all that is known about her.
In March 1925, in New Jersey, he married Lillian Harris for a second time. The couple didn't have any kids.
On November 9, 1951, he suffered a stroke and passed away. He was buried in Hartsdale, New York's Ferncliff Cemetery. At 64 years old, he was.
He was the subject of the 1954 movie "Deep in My Heart," which was directed by Stanley Donen and starred José Ferrer.
Belie has been planning musical events in his honor since 1970.
If you like to read more articles like this, here's one about who is Sofia Franklyn dating.
Author Profile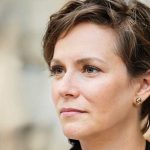 Formerly a senior accountant with a business degree, Linda now manages to generate story ideas; planning, assigning, and editing content for our website.