Let's talk about colors. Because they'll be on your mind if you have a move in the offing sometime this year, whether that be long-distance or local moving.
But you don't have to necessarily be moving house to think about this basic but essential home improvement project.
For some, it might be about simply enhancing the aesthetics of the home. That's particularly a common one in the COVID-19 era which saw us spend copious amounts of time at home, necessitating a rethink of our spaces in general.
Others might be taking it on as part of the home-selling process; probably for staging purposes or as part of general wall repair and painting to boost curb appeal and value of the property.
There are those of us who're always keen to sneak in the latest color trend of the year every couple of years; and of course, the designers, planners and architects among us might have a project going.
Whatever the motivation, we all can agree that a fresh coat job on your walls – interior or exterior – goes a long way towards sprucing up the look of a property.
Now, painting the exterior of your home is a pretty big deal because the façade is not something you want to gamble with as far as the color scheme goes. This is why it's important to resist the urge to splash on any colors you think would come off without doing your due diligence first.
Obviously, it's your home and the decision on the choice of color ultimately rests with you. But it never hurts to research what works and what doesn't because remember, some colors may look a little different in real life than they do on a palette (or in your mind).
Plus, unlike doctor's appointments, a lot of this information is available for free online courtesy of the best experts out there.
Here then, are some of the top 5 trending paint colors of 2022 to consider for your façade.
All White
There has been a growing trend lately leaning towards simplicity and minimalism vis-à-vis both interior and exterior design which has spilled over to color schemes as well.
It is perhaps this shift to more tranquil and neutral tones that explains the rising popularity of all-white external surfaces that we're seeing on ultra-modern properties this year; the fact that white is considered one of 2022's most chic exterior paint colors notwithstanding.
Light Gray
A neutral and sophisticated color tone, light gray is another color that has been making the airwaves this year. The good thing with this classic is that it can feel right at home on most house or building surfaces.
In fact, this is a color you can find incorporated on the exterior of a growing number of urban-style buildings, so it's not surprising much that light gray has emerged as one of 2022's trending exterior colors.
Rich Charcoal Gray
Another shade of gray that gives you an option should you fail to jibe with light-gray, ich charcoal gray is one of those that can transform most facades from ordinary to ultra-modern.
What makes rich charcoal gray unique is its dynamism. Playing between black and gray with hints of dark blue, it truly is unique and gives off an extravagant feel.
Plus, not only is it one of the trending exterior paint colors of 2022 on most modern houses, but also timelessly gorgeous.
Blue-Gray Hues
It might sound like a biasness for gray, but anyone who has been keeping abreast on the latest design trends will have noticed that blue-gray and a number of its variations have been popping up on many lists of top paint colors of 2022, both interior and exterior.
Blue-gray is another unique one whose beauty lies in that outstanding tone which is a harmonious marriage of two independently elegant colors.
Even better, it comes in multiple variations, so you have several options between light blue-gray and deep dark to play with, all of which should come off nicely on your exterior.
Taupe & Beige
Lastly, the ultra-popular pair of taupe and beige – both ever-presents in best neutral colors debate – also make the list of most popular exterior colors of 2022.
If you're looking for something cozier and more welcoming for your exterior, these are two of the most popular in 2022.
Taupe and beige can instantly enrich the façade of most buildings, breathing a contemporary and classy look into them.
Author Profile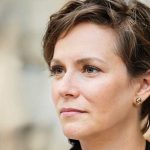 Formerly a senior accountant with a business degree, Linda now manages to generate story ideas; planning, assigning, and editing content for our website.