On eBay, it is sometimes possible for shipments to go missing. If you've ordered an item from eBay and it hasn't arrived, you have options for tracking it down or requesting a refund.
Under eBay rules, you have a right to a refund or replacement from the seller unless they have confirmation that the package has been delivered.
Check-In With The Seller
To begin, you must wait at least three business days after the estimated delivery date before contacting the seller directly. You will need to submit a request for "Item not received" in this case.
When eBay receives your request, it will share this information with the seller, letting them know whether you're looking for a refund or a replacement item. At that point, the seller has three days to reply.
If the seller fails to provide delivery confirmation, does not offer a resolution, or does not respond in that timeframe, you can ask eBay to step in. To do this, log into your eBay account and click "My eBay," and a summary page will open up.
Afterward, select the "Purchase history" link on the left sidebar, find the item you are looking for, choose "See request details," and then "Ask eBay to step in." Once eBay reviews your request, you will receive a response within 48 hours.
In the case that eBay decides that the seller is at fault, you will receive a full refund, including shipping costs, within another 48 hours. In cases where the seller responds but does not have delivery confirmation, the seller can issue a refund or replace the item.
On the other hand, if the seller provides tracking information that proves the shipment has been delivered, they are under no obligation to refund the purchase price. However, many sellers will go above and beyond to help find a solution, even contacting the carrier directly to make sure the item is delivered.
In some cases, the shipment might have been insured, so it is worthwhile to get in touch with your seller. Otherwise, you can try tracking the shipment yourself.
Double-Check The Shipping Address
Before applying your detective skills, you should examine the email correspondence you have received from eBay and PayPal to confirm that the address is correct on both sites.
In case the package was delivered to the wrong address, you will be better able to communicate your concerns during any discussion or dispute.
Contact The Shipper And Reach Out To Neighbors
Secondly, using your tracking number, contact the shipping company (USPS, FedEx, UPS, or whoever delivered your package) or visit their website for more information.
Additionally, if your package was shipped through USPS, you can visit your local post office and have them trace the exact route of the package. Occasionally, packages labeled as delivered go to the correct zip code but not the correct address.
In some cases, drivers leave packages in a hidden spot (under a mat, behind a bush, or inside a screen door) to avoid theft. There might be a note in the system listing the package's location in such a case.
Also, you may want to ask your neighbors if they picked up the package by mistake or for safety reasons.
Stay Patient And Follow Up
Most of the time, the missing package situation will ultimately be solved, and you will receive your package.
Otherwise, you may be able to obtain reimbursement through PayPal or your credit card company, as they may provide such protections to their customers.
Would you like to know the benefits of using an in-house courier service for your retail business? Read our blog to find out.
Author Profile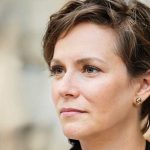 Formerly a senior accountant with a business degree, Linda now manages to generate story ideas; planning, assigning, and editing content for our website.